$1M to catalyze tech inclusion
Close the racial and gender equity gaps in the technology sector with your strongest partners, together.
https://youtu.be/P1OqVnpyU9s
Congratulations to our 2019
Tech Done Right Challenge
National Winners
• Oakland, CA
• Los Angeles, CA
• Bronx, New York
• Baltimore MD
• Houston, TX
• Austin, TX
• Washington, DC
• Albuquerque, NM
• Pittsburgh, PA
• Kansas City, MO
• Atlanta, GA
View our full list of winners here.
Why We Are
Doing This
We are interested in solutions that tackle systemic exclusion facing communities of color breaking into tech. These one-time grants will support local trailblazing organizations with the time and resources to experiment with collaborative models.
Inclusion Matters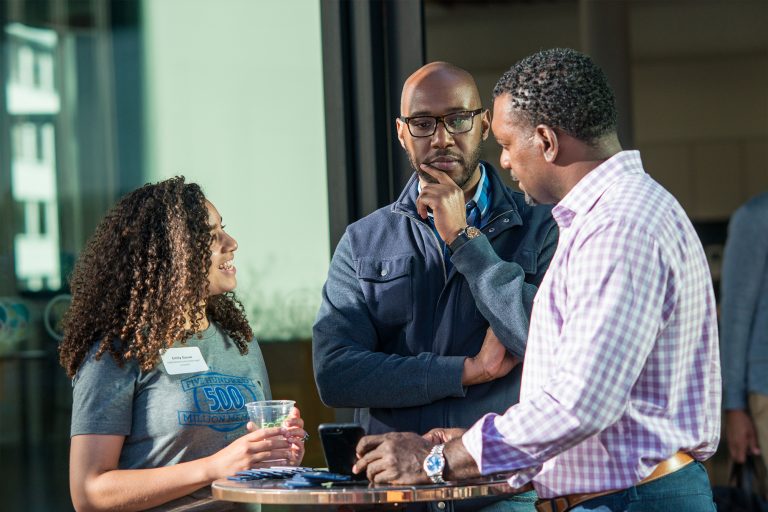 Understanding the Leaky Tech Pipeline:
The technology industry is a 1.4 trillion industry and contributes to 10.4 million jobs in the U.S., generating local and national wealth. However, underrepresented women and people of color are being left behind as a result of a complex set of structural and social/psychological barriers, or "leaks," which occur across the technology pipeline. Solutions to fix the "leaks" in the Leaky Tech Pipeline should address:
Early access to development of math and computational thinking skills, which also present disparities in access and outcomes
A variety of barriers affect student interest, preparation, and persistence in computing, resulting in wide gaps by gender and race/ethnicity in Bachelor's degree completion.
Biases in recruiting, hiring, retention and workplace culture contribute to substantial racial/ethnic and gender disparities in the tech workforce.
Cumulative economic barriers and biases in entrepreneurship pathways affect the opportunities for diverse entrepreneurs to launch products and companies.
Read our Latest Blog Post on Medium!
New approaches to tech opportunity, access, and philanthropy are needed to disrupt the status quo. Read more about Sergio Rosas, Program Lead for the #TDR Challenge, and his distance traveled story.
Keep up with us on Twitter
Email Us
Stay connected with us!